stone temple pilots

Written by Ben bamsey
Photography Holly bronko
"You always were my favorite drug, even when we used to take drugs." It's simple English but what a profound statement, especially when you consider the source and put it in context. It's a now sober sentiment to a soon-to-be ex-wife about a volatile relationship that included episodes of verbal and physical abuse, the demolition of two Southern California hotel rooms and the arson of an $80,000 wardrobe. To compound matters, the initials carved into this troubled heart all suffer from bi-polar disorder and often chose rubber bands and needles as temporary remedies to the depression.
No question that Scott Weiland has seen some ugly shit during his ride on life's rollercoaster. But his marriage to model Mary Forsberg did produce two beautiful children, and by breaking-up, the stain of dysfunction has begun to fade from the family photos. As the past tense verb in the song eludes, the adults are now clean and have found order through their friendship and shared duties as parents. It was an out-of-the-box union that colored itself crazy, but read "Between the Lines" and you'll find a sincere love letter flapping beneath the rifts of hard rock n' roll. It's a chemical-free poem to the true blood flowing in the veins of a woman Weiland will always adore. The song is not an ode to heroin, rather a testimony to dependency, one that mixes sweet memories with the couple's dark, uneasy truths. Addiction is oftentimes the by-product of all-consuming emotions, but ultimately love can be the sweetest drug if you figure out how to stop and savor the taste.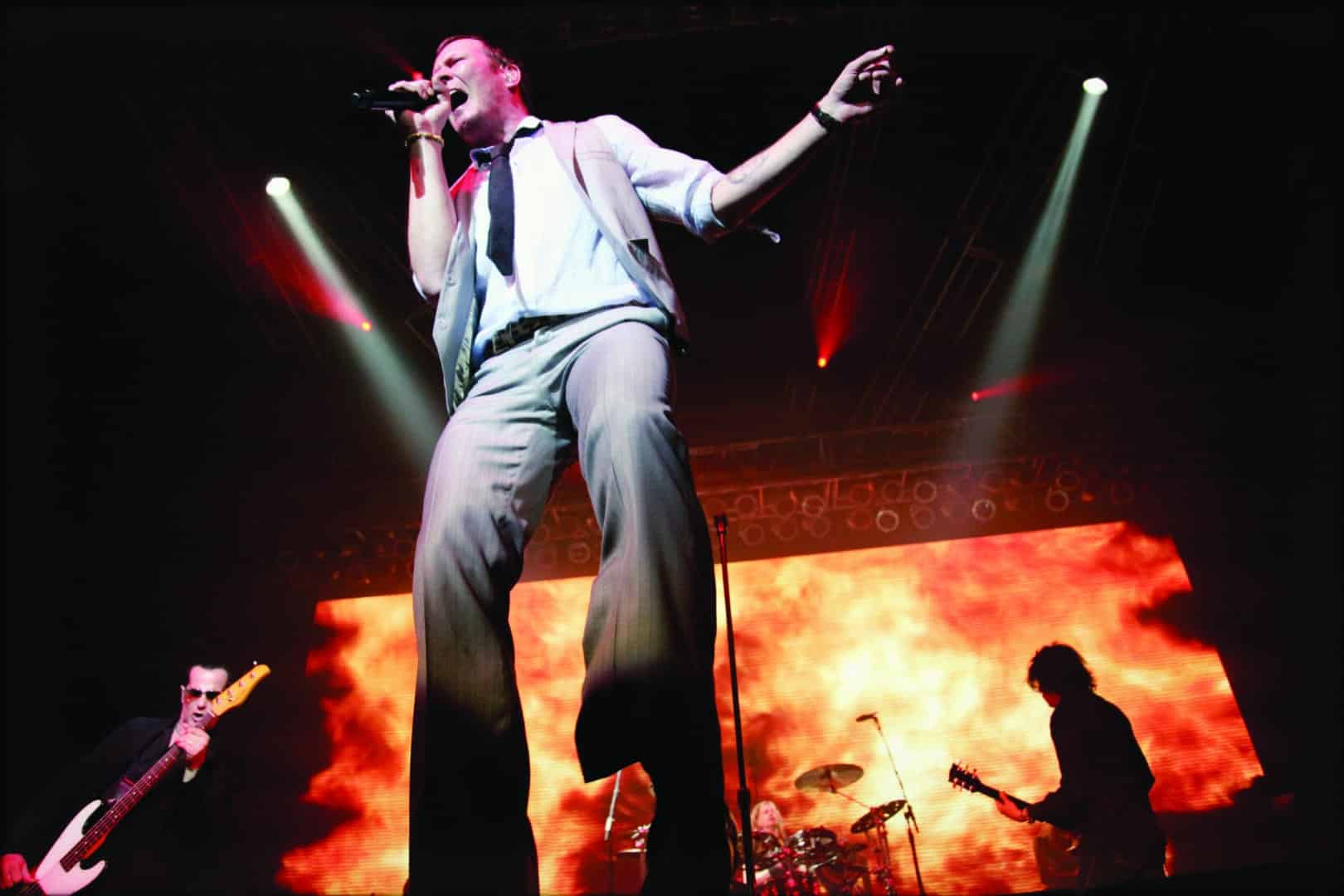 Backstage at SXSW this March, Eric Kretz pounded on drum pads while Weiland anxiously stretched. Stone Temple Pilots fidgety front man was beginning to second-guess the band's highly anticipated, sold out show at Austin Music Hall. "Wish we would have done Stubbs instead of a big venue with big production," he said. "Just done it punk rock." STP had been back together and touring after a seven year hiatus, but only greatest hits sets up until this point. Here on one of music's biggest stages at SXSW this performance would be much different, marking a new direction for Weiland, Kretz and brothers Robert (bass) and Dean (guitar) DeLeo. STP was about to debut four tracks, including "Between the Lines," off its first studio album in nearly a decade. The crowd had heard all sorts of rumors about special guests and a surprise set list, but nothing could have prepared them for this…
"South By Southwest! Helloooo!" Weiland shouted into the mic. Then, Dean's distortion gave way to frenetic fretting, Eric snuck in the percussion, and by the time Robert began fingering the familiar bass chords to "Vasoline," fiery lights exploded from the jumbo monitors surrounding the stage. Weiland slithered as he spun in circles in his late 1960's Savile Row-style gray suit. His skinny black tie broke free from its vest and twisted with each gyration. Behind dark shades Weiland delivered his signature lines: "One time a thing occurred to me: what's real and what's for sale. Blew a kiss and tried to take it home. It isn't you. Isn't me. Search for things that you can't see. Going blind, out of reach. Somewhere in the vasoline." By now pandemonium had whipped this Texas town into a musical tornado. Each STP classic blew the 30 and 40-somethings back to the soundtracks of their high school and college days. Cuts off Core like "Plush," "Wicked Garden" and "Creep" sounded as tight and relevant as they did when they band first rocked 'em in San Diego clubs in the early 1990's. Although "Interstate Love Song" has played in many a car down many blocks since then, the ride-a-long with STP will never hit "E" – no matter how desolate things may seem. Despite breakups, canceled shows and lost earnings over the years, there were no signs of bitterness on stage. Instead, this foursome has again found its magic through music.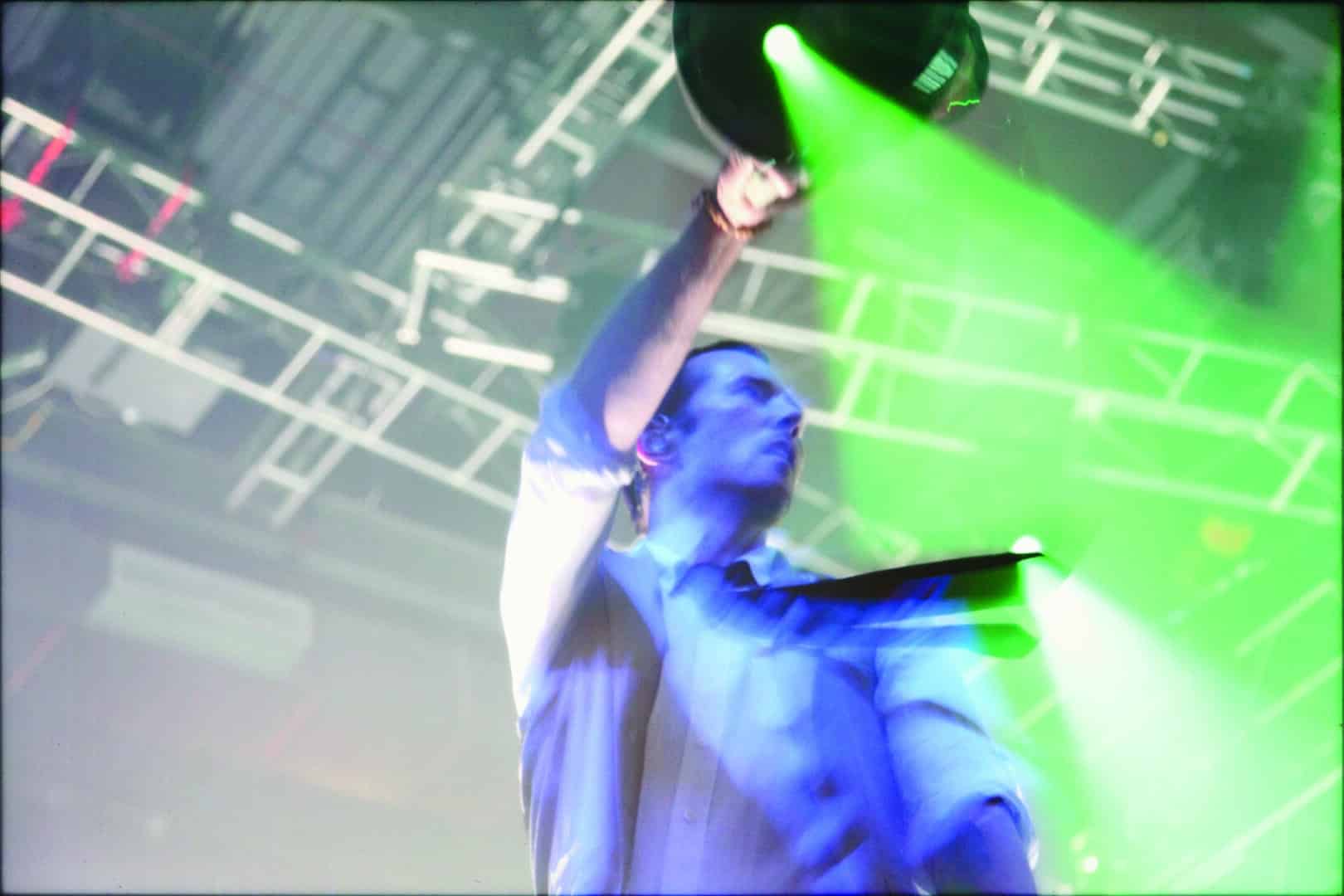 Their gift to us, and each other, was new material. They unwrapped "Between the Lines" first. The debut live performance in Austin exposed the group's hard rock roots to the old faithful, while baptizing new fans with its anthemic hooks. Weiland danced around like a drunken bullfighter as the DeLeos absolutely scorched their guitars. Then came the countrified, hillbilly ho-down of "Hickory Dichotomy," followed by the jamming hooks of "Bagman" and finally the bluesy stomp of "Huckleberry Crumble." It was quite clear that before SXSW each new song had first been polished in a bath of brilliant musical diversity. For their Austin encore Weiland flicked a long, limp ash off his cigarette then brought Doors' guitarist Robby Krieger to the stage, calling him, "a man who was part of the greatest rock and roll group in history." Together they brought down the house with a radical version of "Roadhouse Blues" before closing with crowd favorite "Trippin' on a Hole in a Paper Heart." The boisterous crowd reached its crescendo singing in unison with Weiland: "I'm not dead, and I'm not for sale."
After the music faded and stagehands began tearing down, a still amped Scott Weiland knew STP's engine had revved like never before. "I don't think that people thought that we'd come out there as hungry as we were," he said. "Really it was just absorbing the energy in that place. It felt great, amazing actually playing new material. You don't know how you're going to perform it until you improvise, and it all just clicked." Stone Temple Pilots, the eponymous sixth album, shares the band's name for good reason. "After nearly twenty years of making albums, and after our mini break-up we felt we didn't actually have to name an album, because making an album is who we are," Weiland said stoically. From each rhyme to genre-bending rift it mimics the unique DNA of STP. "It's a real solid record," he continued. "We didn't want to steal from ourselves. Everything we've done in our career as a band and the nine years since our last record has added to what we are right now. It's a good blend of STP as a rock band and STP as a band that explores different musical realms."
Weiland's powerful vocals command attention while his focus on inflection and melody over lyrical clarity adds to his mysteriousness. The heroin-fueled narcissistic writing of the 1990's is absent on this disc – replaced by Leonard Cohen-style storytelling. It's poetry that Dylan would read twice. Robert DeLeo continues to up his musical IQ somewhere beyond brilliant. His signature sound of James Jamerson-esque Motown bass lines over rock music is the reason this album thumps so hard. "Robert, in my opinion, is the best bass player in rock today," Weiland bellows. Dean DeLeo benefitted from his recent touring with Joe Walsh of The Eagles. The band recognized his elevated creativity rewarding him with solos on nearly every track. The attraction of Stone Temple Pilots (the album) is that it brings listeners to the end of the cliff and gives them the courageous wings to jump and then fly with some fucking attitude.
The guys produced this album themselves, shuffling between Scott, Eric and Robert's Los Angeles area studios. STP's creative process has always begun with the DeLeo brothers laying down demos or just ideas. Those rough cuts are sent to Scott who then adds the lyrics and melodies. The band then gets together and makes necessary arrangement changes before doing the master recording and mixing. "We still surprise each other musically," Robert DeLeo said. "I think that's what keeps it fresh and keeps it going. I think if we were writing the same song over and over again over the years, I don't think we'd be doing what we're doing. I think we would have lost interest a long time ago." When it came to putting the final stamp on the new record, the band turned to a book that Weiland had brought by the studio. It was a retrospective of Shepard Fairey artwork, and one piece in particular spoke volumes to STP – so much so that they decided to make Fairey's Peace Fingers Red their album cover. Fairey, who has also created covers for the Black Eyed Peas, Smashing Pumpkins and Led Zeppelin, customized the art for Stone Temple Pilots, replacing his iconic OBEY symbol with a peace flower in the center. "We're about peace and love, man," Weiland explained. "Our music may be intense and violent sounding at times, but the ideas behind it are about love stories, broken hearts and the idea of eternal peace."
"This new album means a graduation of some sort," Robert added. "We've graduated into making a record on our own. That was a big step in producing our own album." Earning this musical diploma, though, has been one hell of a bumpy journey. The ups and downs of Stone Temple Pilots would require a "Behind the Music" mini-series. Along with the glory of selling 40 million albums, winning a Grammy Award and producing more than a dozen Top 25 hits, has come the anguish from addiction, the frustration of jail and multiple trips to rehab and the exposure of enough internal demons to make Satan salivate. But those scars are what make this band beautiful. And, like it or not, they are just one in a string of great groups that have produced game changing material while strung out on drugs. LSD gave us "Sergeant Pepper," we learned that "(I Can't Get No) Satisfaction" thanks to cocaine and heroin helped us taste a "Sour Girl."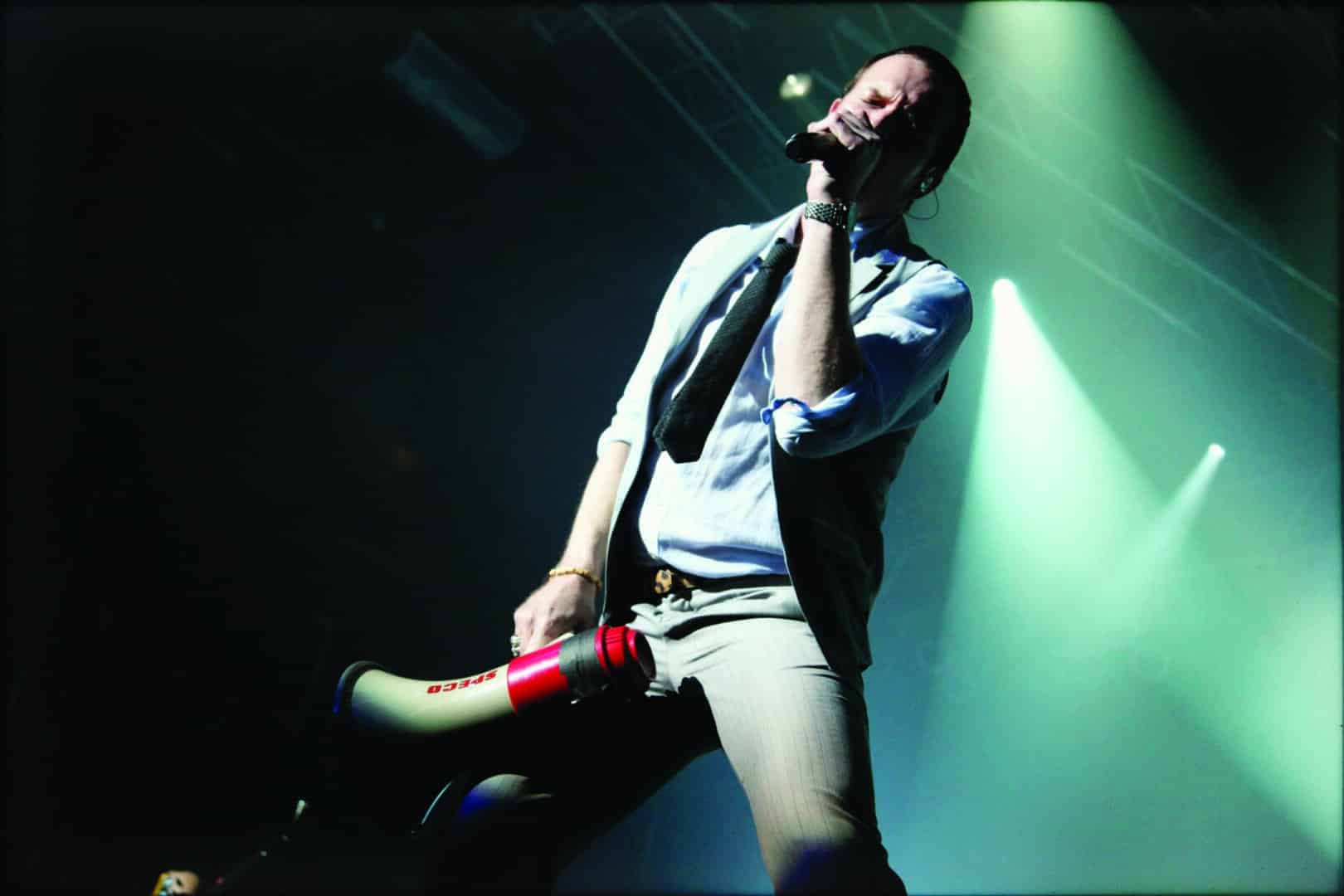 When asked what song would play on Scott Weiland business card he responded, "Bi-Polar Bear." He penned the lyrics attempting to describe the battle raging inside his mind. "You keep comin' down the hill as you're fallin'. You keep fallin' from the hill as you're comin' down," he sings. Weiland was diagnosed with the disorder just as he was becoming a music superstar. He has refused to take meds to treat it and admits to mood swings as a result. Music is his outlet. He also does abstract drawings, sketches and paintings as another form of release. It's telling that Weiland's favorite artist is Egon Schiele – an Austrian painter and protégé of Gustav Klimt who died at 28 from Spanish flu in 1918. His premature death has relegated him to obscurity. But Schiele's provocative figurative work focused on sex, death and discovery, and it's easy to see why Weiland is drawn to it. The bodies Schiele painted were often twisted into awkward, painful-looking shapes. Finding comfort in his own skin was a struggle for both this artist and the musician that admires him.  
Scott Weiland took his first puffs of marijuana at the tender age of 13. Adventures in cocaine came three years later. By then, he'd dropped out of high school and was already fronting bands in Huntington Beach emulating the flamboyance of David Bowie while trying to push the envelope like his heroes The Beatles. When he was 19, he bumped into Robert DeLeo at a Black Flag concert in Long Beach. The two talked about music into the night, but when the conversation switched to relationships, they realized they were both dating the same girl. She was quickly dumped twice and left town. Weiland and DeLeo moved into her old apartment and began jamming. They eventually added Robert's brother, Dean, and Eric Kretz forming a band they called Mighty Joe Young. By 1990, they'd recorded their first demo tape but were forced to change their name after discovering a bluesman already claimed it. The band moved to San Diego where they stormed the club scene with the less-than-classy moniker Shirley Temple's Pussy. When Atlantic Records signed them in 1992, they loved the group's music, not the name. So, STP transitioned out of 1930's child star genitalia and into Stone Temple Pilots.
Fans ate up their debut album, Core, but critics reviled it. The media dubbed them low rent Pearl Jam wannabes dragging behind the grunge bandwagon. Despite those negative reviews, Core went 8x platinum. It peaked at number three on the Billboard charts and earned STP a Grammy for "Best Hard Rock Performance" for the song "Plush." A spellbinding acoustic version of that track was recorded later that year on "MTV Unplugged" elevating Scott Weiland to the throne of alt-rock, but his fall came just as quickly… as he descended into the "MTV News" police blotter. Weiland says Butthole Surfers front man Gibby Haynes introduced him to black tar as they toured together in 1993. As a result, Weiland wouldn't record another sober album until 2010.
On the heels of the release of STP's ultra-successful sophomore record, Purple, Weiland was arrested in Pasadena in 1995. He was high and had heroin and a crack pipe on him. A judge sent him to rehab instead of jail. With Weiland's personal issues now public, STP endured its first break-up. It set a precedent for band members doing independent projects followed by a reunion album and an evolving sound. The longest break the band took stemmed from a near fistfight that broke out between Weiland and Dean DeLeo following the final concert of their tour in 2001. Weiland left the band and spiraled into a drug induced haze, eventually joining mega-group Velvet Revolver with former Guns N' Roses members Slash, Duff McKagan and Matt Sorum. Velvet Revolver released two albums and earned a Grammy before disbanding in 2008. True to their M.O., Stone Temple Pilots were able to patch things up again and get back to the business of making great music. Their new album picked up where the others left off with the group dabbling in psychedelia, glam rock, country and even bossa nova while playing with guitar tunings and production techniques. Tiny Music… Songs From the Vatican Gift Shop, No. 4, Shangri-La Dee Da and Stone Temple Pilots are so undeniable different, but underneath all the experimentation is a sonic blueprint that is immediately recognizable and quintessential STP.
Well-documented drug arrests and a revolving door of rehab stints have plagued Scott Weiland's career. His first wife, Jannina, bailed him out of jail in 1998 after more drug charges. He demanded that she help him get more heroin, when she refused, he rolled out of her car at 45 miles an hour, found a pay phone, got a cab and met his dealer. Jannina divorced him a short time later. In 2000, Scott married model Mary Forsberg. Drugs ruled the roost during this tumultuous relationship. In Mary's memoir, Fall to Pieces, she wrote about taking heroin off of a framed Neil Zlozower photograph of Keith Richards, also Scott smoking a crack pipe in the bathroom at a Playboy Mansion party and how they both wore long sleeves to a 4th of July event at Leonardo DiCaprio's home in Malibu to hide their track marks. The couple got in a fight in a Burbank hotel in March of 2007 leaving holes in the walls of two rooms and blood on the linens. The next day, Mary raided Scott's closet, threw his $80,000 wardrobe of designer clothes in a heap on the driveway, doused them in gasoline and then lit a match. Her adventures in pyromania landed her in a psych ward and an eventual diagnoses of bipolar disorder. Two months later, Weiland's younger brother, Michael, died from a drug overdose.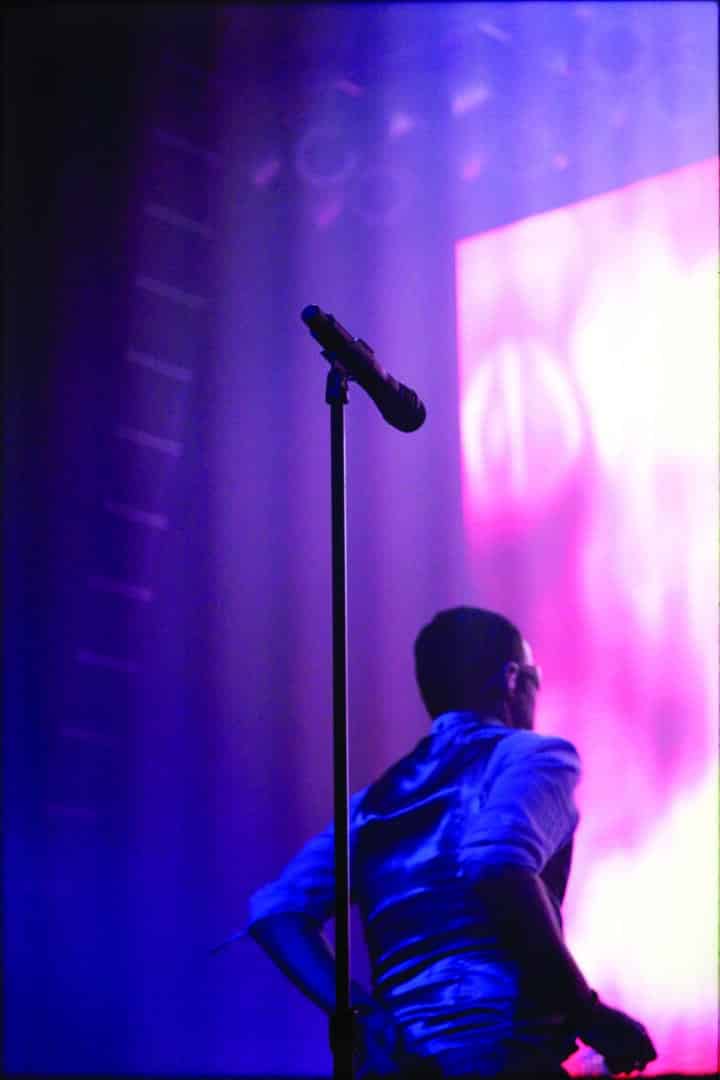 The breakup of Scott's second marriage and the loss of his brother crushed him. It also gave him the perspective to turn his life around. He still admits to drinking scotch on occasion. "Nobody's perfect," he said, but Weiland hasn't touched hard drugs in a few years. Instead of fueling that addiction, he's channeled the energy into his career and being a great dad to the two children he shares with Mary. When Weiland's not touring, most of his time is spent at his studio where he pushes himself to develop a rough cut of one new song a day. He's also developing some great, young talent at his own record label, Softdrive, trying to give musicians the same break he received two decades ago when Atlantic first signed STP. It's the most prolific period in his career. He also launched his own Scott Weiland clothing line and will appear on Santana's upcoming album performing a cover of the Rolling Stone's classic "Can You Hear Me Knocking." Later this year, his much-hyped autobiography is expected to hit bookstores shining the spotlight on his musical genius and his lifelong battle with drug addiction. As for the future of Stone Temple Pilots – all the members agree that they'd like to make four of five more albums. For Scott it's always been about "creating a legacy. We never talked about Ferraris or Mazaratis. It was always like what are we going to be able to give back to music."