no title

written by ben bamsey
Ed Ruscha makes communication interesting. He's a story teller who defies definition, giving words a life and language all their own. They are abstract forms that have bubbled, bled, crumpled and smoothed out again over the years. They've smelled like chocolate, been stained in blood and drawn in gunpowder. Ruscha is pop, conceptual, surreal and minimal all stuffed into one fat sandwich of artistic "isms." His work is consciously ambiguous with no list of priorities or importance. There are no hidden messages and no social, economic or political statements to be found. Instead, Ruscha's incredible body of work is what it is… a reflection of his personality: smart, witty and unique. The man and the art refuse to stand still. They have a constant buzz and possess the power to make art speak fun.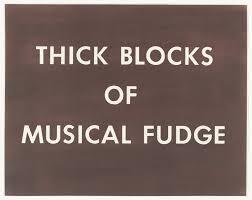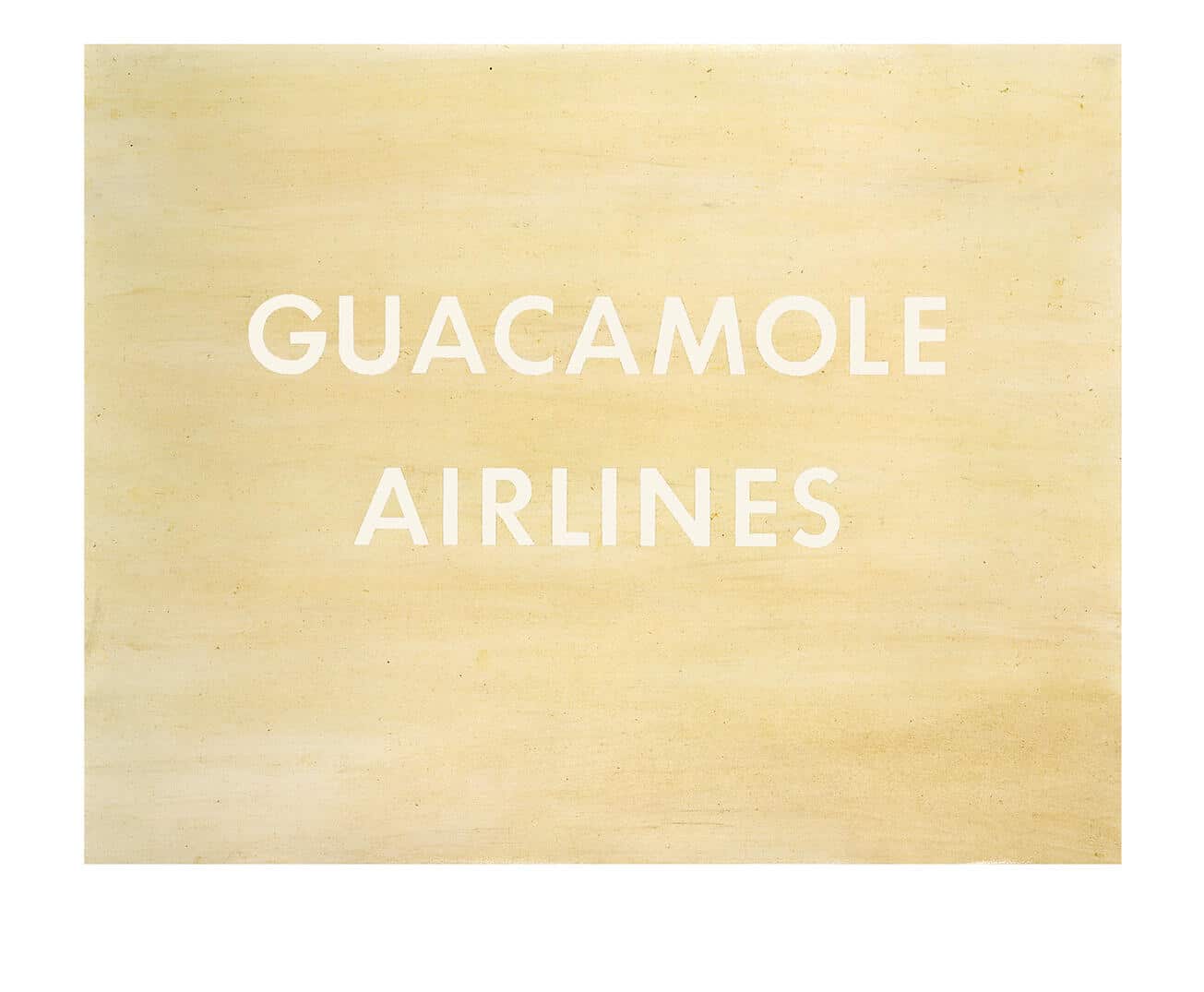 Thick Blocks of Musical Fudge: "I was thinking about music and how if music would have a counterpart in the real world that it could be a sweet or a fudge. I could picture a block of fudge being cut apart almost like a composer might take musical instruments and cut them apart."
Guacamole Airlines: "It has a clownish structure to it that I like. So I'm not always after humor and I'm certainly not after puns. Maybe I was thinking of a Mexican airline and this is just a better way of saying it."
"The word picture has an automatic quaintness that I like. Abstract painters would also use that word. Rothko, de Kooning and Kline would say, 'Well I'm working on a picture.' I like that. It's not just a painting; it's a picture."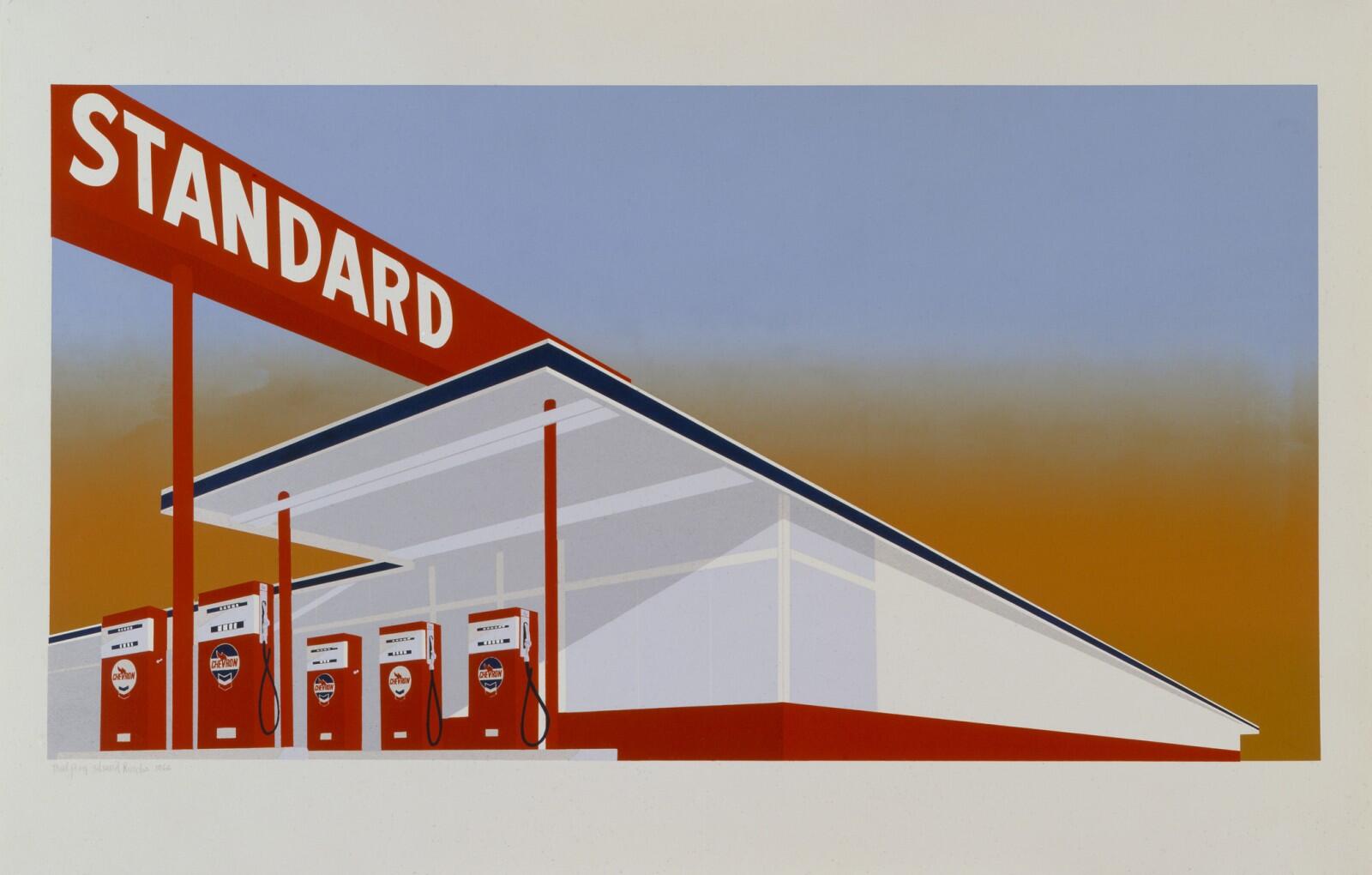 Welcome to the creatively bizarre world of Ed Ruscha where art is something designed to make you scratch your head. It doesn't need to make sense; it just needs to make you stop and look. Like his sense of humor, Ruscha's work is sly and somewhat elusive. It's not complicated; it's just so different that you can never quite put your finger on it. He's spent the last fifty years testing boundaries, shifting mediums and materials and constantly reinventing himself. He's a painter, photographer, printmaker, bookmaker and filmmaker who can't be pigeonholed into any one style or sensibility. Ed takes it all on, never playing by the rules. His talent is the reason he's on top of the game.
"Making art is like an involuntary reflex," Ruscha says. It's so second nature to him that it seems he's always a step ahead. Ed wears that quirky kind of defiance in the form of a wry smile on the corners of his face. You can almost see the wheels that are constantly spinning upstairs. He's a slick and conscious communicator who chooses words carefully. That's why it's interesting to listen to him talk about his art. His pieces sell for hundreds of thousands of dollars, yet whether it's a print, photograph or painting… to him everything is a "picture." Ruscha says, "The word picture has an automatic quaintness that I like. Abstract painters would also use that word. Rothko, de Kooning and Kline would say, 'Well I'm working on a picture.' I like that. It's not just a painting; it's a picture."
His mixture of modesty and smoothness is echoed by the uniqueness of his name. Edward seems to symbolize his good Midwestern roots, but with a last name like Roo-shay, he certainly belongs in L.A. He definitely looks the part: full head of hair, a good tan, easygoing attitude – at 69 years old, Ed Ruscha is a fountain of youth. His style is cultured, civilized, and fashionably plain. His massive record collection includes real country & western, 1950's rhythm & blues and jazz… with a twist of Captain Beefheart, Frank Zappa and Tom Waits. A well-traveled man, Ed can speak first-hand about the lights of London and romance of Italy, but you can tell California is his real cup of coffee. He makes his home in the Coldwater Canyon area of Los Angeles and has a place in the Mojave Desert where he can escape. He works in Venice and people down the block call him "the king." At the marvelously trendy eQuator Books on Abbot Kinney Street you can buy an Ed Ruscha souvenir brochure from Greece's national museum for five bucks. There's a whole box of them. "Ed gave 'em to us," the manager says.
Ruscha's studio is full of character. It's huge and used to be a beer warehouse. Two electric gates shield it from traffic. A massive steel door and call button keep this baby as secure as the Louvre. Inside, it's not a museum but it's full of valuable history. Familiar pieces from Ed's career hang in no particular order on white, modern walls. Big, old studio lights shine down from above. Stuff is everywhere, but unlike most artists, it all looks organized. Rolls and rolls of tape are stacked neatly on shelves. "I use tape for every conceivable purpose," Ruscha explains. "You can never have enough tape." Measuring and cutting tools and old-school film cameras are lying around. There are no easels. Tubes of paint are nowhere to be found; just two colors poured into medium-sized Diet Pepsi cups with a couple brushes sticking out. Ruscha likes to be alone in here, no music, where he can get lost in the giant expanse of his studio and creative mind.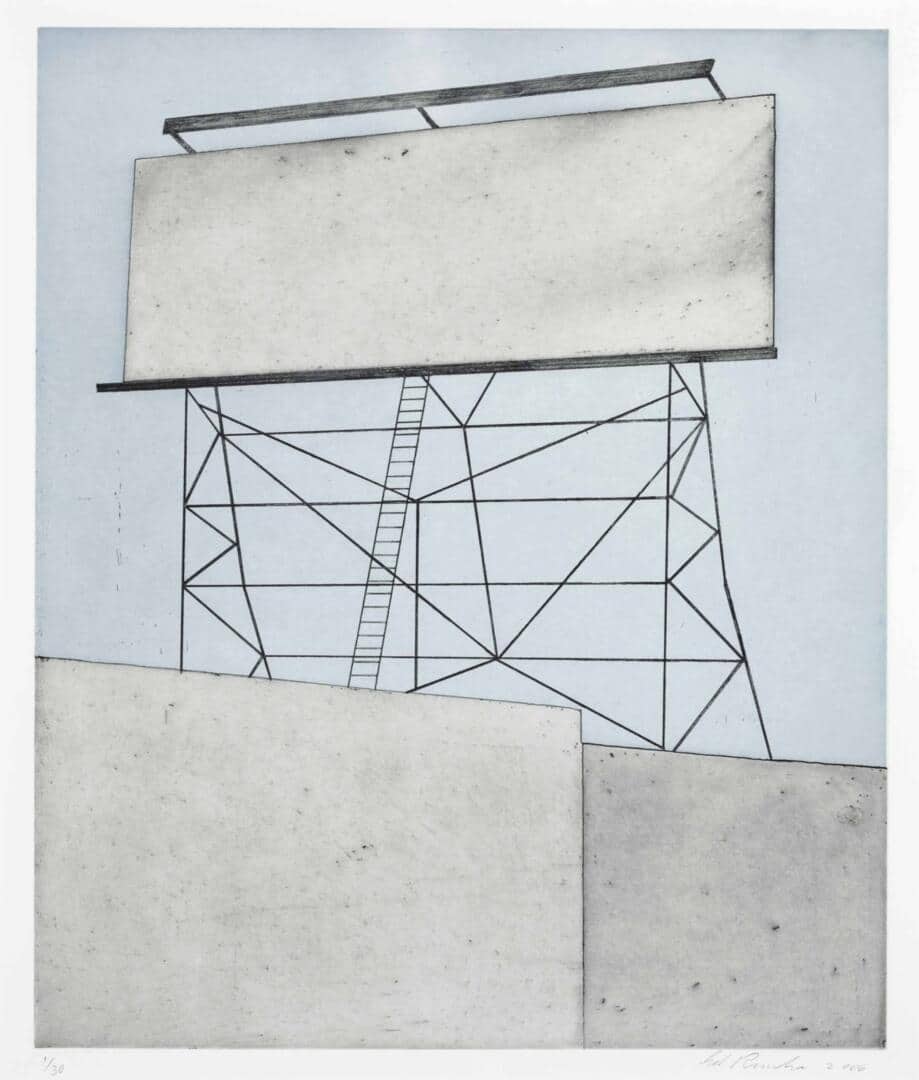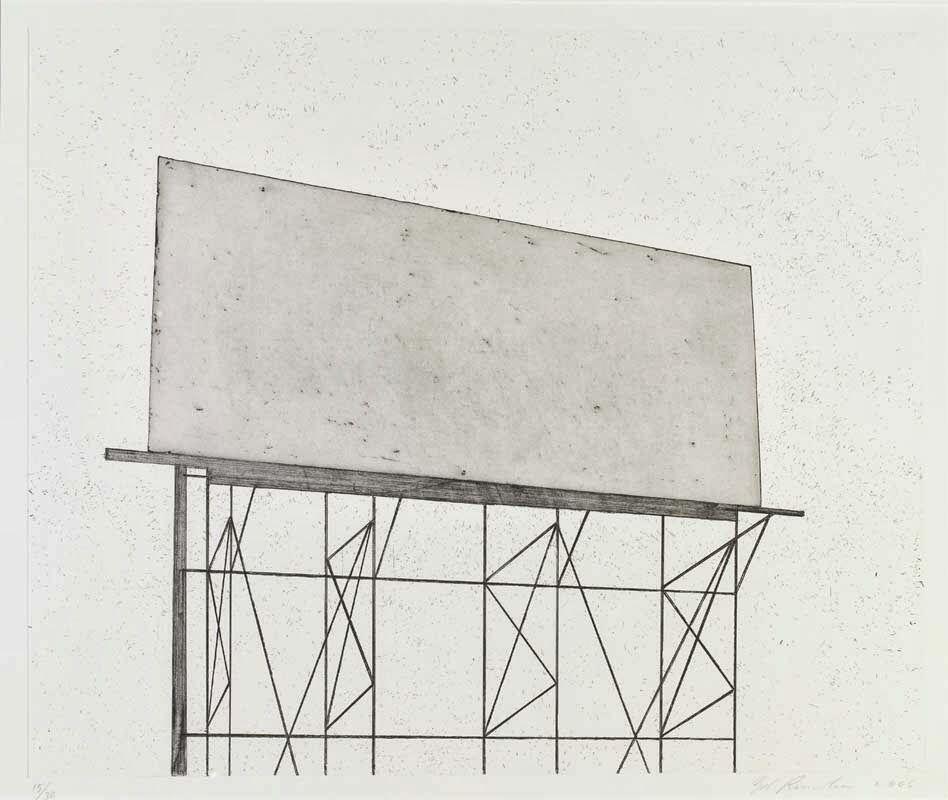 Several versions of his latest project are taped to the walls – four drawings on stiff museum board that are part of one of the coolest commissions of his career. It's a big concept that's almost impossible to perceive. The drawings themselves are fairly small but incredibly detailed and beautifully crafted. The outer edges of the vertical pieces are black, and as you move to the middle, the colors fade from gray to white. They are incredible studies of gradation. The words are sideways and involve the concept of palindromes – words that can be read the same forwards and backwards – Maps DNA and Spam, Must Sell at Tallest Sum, Rise to Vote, Sir. These drawings were then photographed, electronically enlarged and printed on fabric stretching 30 feet tall. In February 2007, they were installed in a federal building in San Francisco on 7th Street and Mission. The building has four giant floors each having three open levels. The art hangs from the walls like gigantic tapestries. Each floor is its own experience that will blow you away. The words are meant to be like elevators shimmying up the wall. "You have to twist your head to read them," Ruscha explains. "I like that they can be conceived as one on top of another, so that this vertical hot spot in the middle goes up through the entire building, almost like a spine, and then these words are just kinda dangling there in space."
Ed is the art world's version of a celebrity. In the 1970s he directed two short films: the very witty Premium and Miracle… the story about a curious day in the life of an auto mechanic. Ruscha has even given acting a shot. He played a radio station director in the film Choose Me. Movie industry heavyweights Jack Nicholson, Steve Martin and Dennis Hopper have Ruscha originals on their walls. Mick Jagger hangs out in Ed's studio.
Ruscha's iconic paintings of the Hollywood sign are emblematic of his own fame. It's propped up, paper-like and it's aligned in the same respect as much of Ed's work. But the only reason he painted it in the first place is because it was staring at him out the back window. "I had to do it because it was there," he quips. Ruscha's California catalogue is extensive and important. His paintings have mapped, plotted and given perspective to L.A. streets and sections. His numerous photography books about palm trees, swimming pools, parking lots and apartment complexes in Los Angeles established him as a conceptual leader in the industry. Then & Now shows the evolution of Hollywood Boulevard from 1973 to 2004 and looks at change the way an anthropologist would. He took pictures of every building on the Sunset Strip and turned it into an accordion book. "I like the idea of patching it all together and making a single picture out of it, almost like a ribbon or a strip of something," Ruscha says. "That's why I always appreciate a roll of toilet paper. It all hangs together and yet it's all a part of one thing."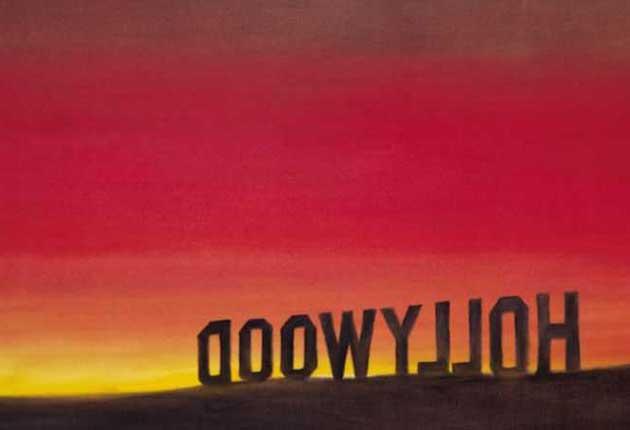 Sometimes he admits he wants to flush Los Angeles down the ole commode. It's a love-hate thing where the pendulum swings back and forth between the fascination and the frustration of living in such a big and diverse city. Similarly, the choice to set up shop in sunny SoCal has been a blessing and a curse for his career. "There's no artist associated with the sixties and Los Angeles who better epitomizes Hollywood in the visual art world than Ed Ruscha," according to Paul Schimmel, Chief Curator at the Museum of Contemporary Art Los Angeles. "It's central and in some ways a detriment to a broader understanding of the complexities of his work. For many, up until recently, he was the Hollywood pop artist. Pop art and the myth of Hollywood trapped people's understanding of who Ed Ruscha is."
Perhaps that's because he's always played by his own rules. It's not that he's anti-establishment; it's just that he's different. For his first retrospective, organized by the San Francisco Museum of Modern Art in 1982, Ed painted I Don't Want No Retro Spective and put it on the cover of the catalogue. It's an unconventional way to showcase a life's work that fits Ruscha perfectly. While it may seem like a spin-off of the Rolling Stone's (I Can't Get No) Satisfaction, the root is actually much simpler and less jaded than that. "That came directly from a friend of mine – an actor named Bud Cort who'd done several movies." Ruscha told Cort about the SFMOMA show, to which he replied very matter-of-factly, "I don't want no retro spective!" "I riveted on it," Ruscha says. "I always liked double negatives and illusions towards illiteracy. I don't want no – I grew up with a lot of that in Oklahoma."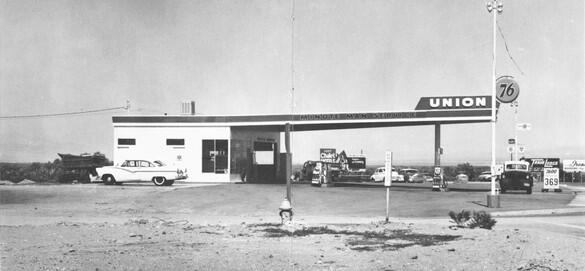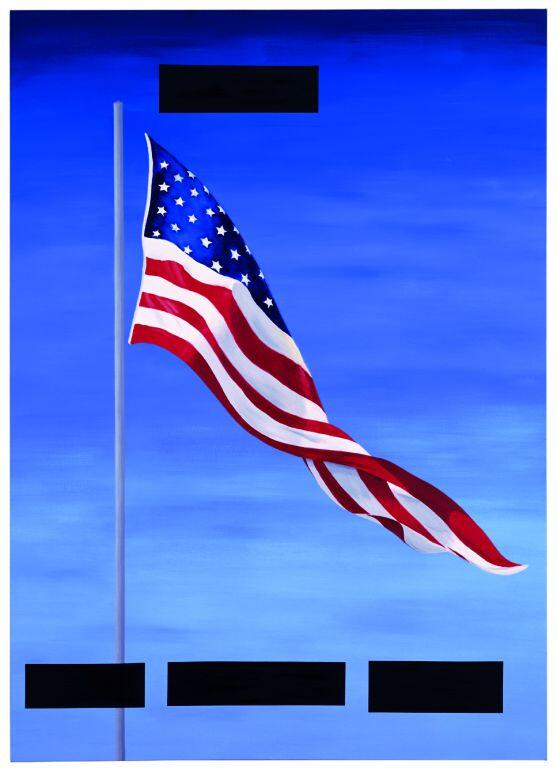 Ed spent his childhood in the Bible-belt staring at the waving wheat and red dirt. He was born in Omaha, Nebraska, in 1937, but his family moved to Oklahoma City when he was four. Ed watched the psyche of middle-America change drastically during his youth. "There was some kind of odd success after WWII. People would leave their garden hoses running. About the time air conditioners were created in cars, people would roll the windows down and leave the air conditioners running. It was a strange kind of affluence." Early on it became clear that Ed was an artist at heart. He made murals for his grammar school class, took painting classes in 6th and 7th grades and could draw Felix the Cat, Bugs Bunny and all kinds of cartoon characters. Ed's parents were supportive; he went to mass and even had a paper route. "I guess I learned good four-square thinking and basic human values in Oklahoma," Ed says. But a visit to California as a teenager gave him the itch for something bigger, and as soon as he got a car, it was all over. With high school in the rearview mirror, it was full speed ahead to the West Coast.
Hollywood was advanced, experimental and fashionable, and Ed liked it all. He enrolled at Chouinard Art Institute in 1956 initially taking commercial art and animation classes, a path that most often led to a job at Disney. But Ed developed other artistic interests and simply went with the flow. At first, he wanted to be a sign painter. Then, he got into advertising, book design, and even laid out Artforum Magazine for a couple years. To make some extra cash he took a job personalizing thousands of Christmas trinkets for a gift store. All these technical skills helped form the foundation of his career and certainly explain his obsession with tape. In college, Ed moved on to courses in painting, drawing and watercolor. His professors believed the spontaneity of de Kooning, Pollack and abstract expressionism equaled modern art. Ed listened but felt something else inside his soul. The epiphany came one day in an image the size of a postage stamp.
Ruscha was thumbing through the pages of a magazine when he saw a tiny reprint of Jasper Johns' Target with Four Faces. The painting was premeditated and symmetrical and Ed was floored. "It just went counter to everything that people were talking about in school. It was not just a target. It had faces. It was something immediately recognizable coupled together with something that was totally mysterious." Robert Rauschenberg's "combine paintings" gave Ed that same kind of hope. "I began to see that there were some artists who were doing something that perplexed me and moved me towards a career in fine art." With a newfound purpose, Ruscha began sticking fabric and parts of comic strips on his canvases. He also began experimenting with words and painting common objects like pencils and school supplies. The representational shift quickly turned to popular subject matter, and Ruscha soon found himself riding the initial wave of American pop art.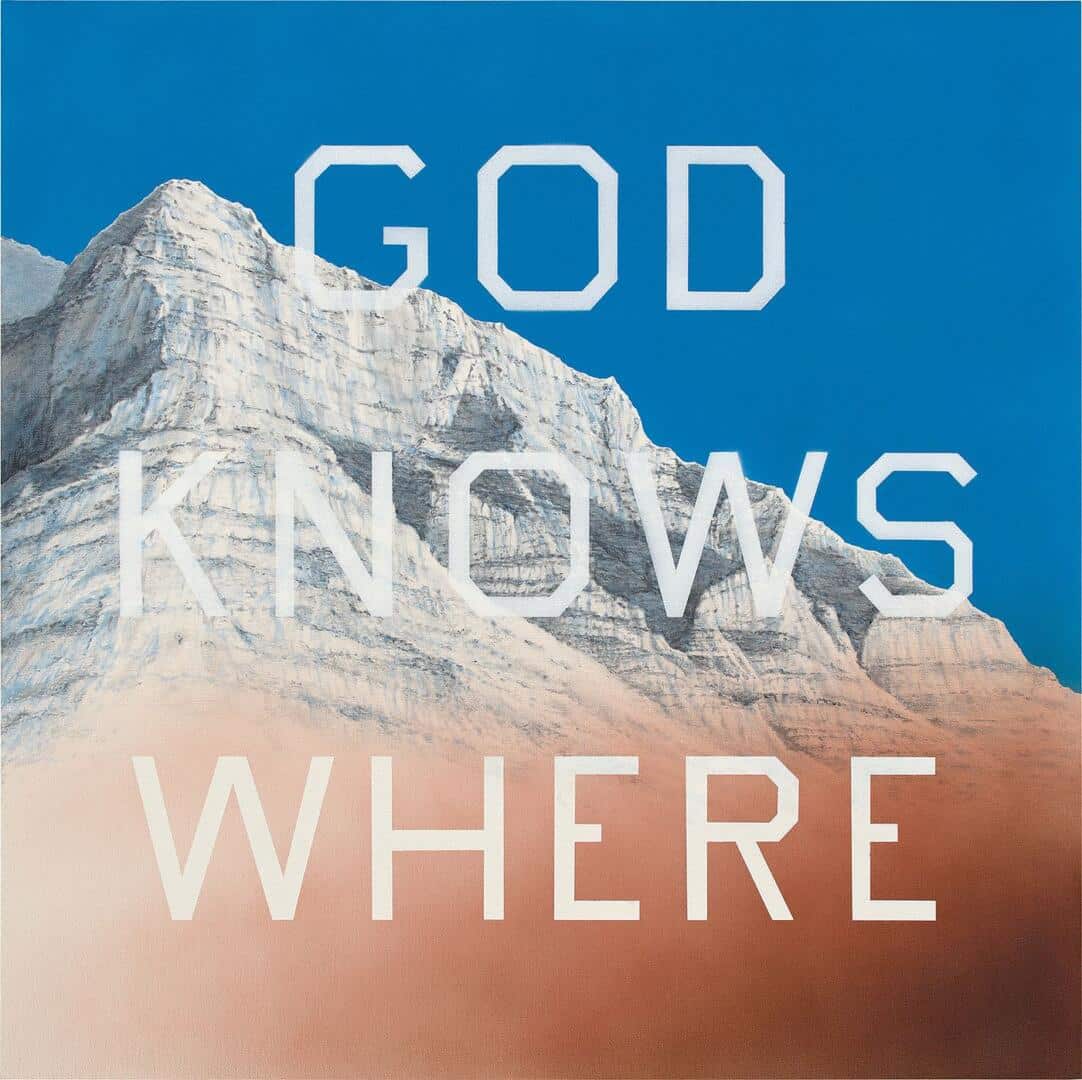 Johns and Rauschenberg broke the ground, but Ruscha, alongside his New York contemporaries Andy Warhol and Roy Lichtenstein, set the trend. Their art gave credence to previously unappreciated objects like Campbell's soup cans and Coca-Cola bottles, or in Ruscha's case, Cracker Jack boxes and Spam containers. The art these men produced in the 1960's spoke volumes about consumption and appealed to the masses. At eleven feet wide, Ruscha's Large Trademark with Eight Spotlights is a major statement about the relevance and importance of the movie industry in pop culture. The 20th Century Fox commercial logo flies onto the screen and boldly announces the beginning of a motion picture. Ed wanted his art to provide that same kind of experience. "I always liked as a kid watching movies where there'd be an empty landscape and you'd hear a train coming, but you didn't see it. Then way in the far right hand corner you'd see this train. Within seconds it was filling the screen going from lower right to upper left. Well the 20th Century Fox logo is doing the same thing. It opened up an avenue in my mind to create pictures along these lines."
Standard Station, Amarillo, Texas is another iconic painting done in that same diagonally important way. The idea came from frequent trips back and forth between L.A. and Oklahoma City on Route 66. For years Ruscha had been documenting the adventure taking black and white photographs of gas stations along the highway. It became the subject of his first acclaimed book Twentysix Gasoline Stations. As the title suggests, the book features filling stations in California, Arizona, New Mexico, Texas and Oklahoma. Some are taken at night, others during the day, and all of them scream America. "Somehow gas stations fit into some kind of poetic voyage for me," Ruscha says. "They have a certified uniqueness to them. I love the pre-fab ones that were done back in the 40's and 50's with the overhang and functional look where you could almost drive your car underneath, get out and go into your place. It's like an extension of something that I really appreciate." In 1963, Ruscha met Andy Warhol in New York and gave him a copy of the book. According to Ed, "He said, 'I love this.' And I said, 'Why?' He said, 'Because there are no people in it.'"
The composition of these shots is simple and not manipulated in any way. Ed's style of photography is similar to Walker Evans and Robert Frank in its honest, not always pleasant, portrayal of the American social landscape. "Frank's book called The Americans was like another mini atomic bomb for me," Ruscha explains. "I took pictures of different things, mostly gasoline stations, and various kinds of serial imagery that I was more interested in making into books than I was seeing photographs of. I mean the photography was almost incidental to the book. So, I was looking at them as the book is the product, not the photograph." It was a highly inventive approach that earned respect. While the pictures look like they could have been shot by anybody, putting them in this art context changed the aesthetics of what a good photograph is. The books themselves became three-dimensional works of art and architecture. From 1963 to 1978, Ruscha put out seventeen books mostly about the landscape of Los Angeles. He called them "the most powerful statements I've done."
Robert Dean, editor of Ruscha's Catalogue Raisonne of Paintings, says Ruscha's influence is beyond epic. "Ed almost single-handedly created these artist books. When Richard Hamilton designed the Beatles White Album, he never mentioned Ed by name, but he said he wanted it designed in this plain way to resemble the most exoteric artist book publication – all this white with this very discrete lettering on it. Ed was basically the only one looking like that, and if it wasn't his, then the ones Hamilton was looking at were influenced by Ed."
The Los Angeles County Museum of Art was the first institution to purchase a Ruscha for its permanent collection. A couple years later, Ed painted LACMA with flames shooting out of it. It wasn't anger that started that fire, it was absurdity. His catalogue includes the obvious pairing of a bouncing olive with a bowling ball, a bird whose beak and tail is the point and eraser of a pencil, and the globe surrounded by scallions. "Ah, the lonely onion," Ruscha waxes poetic. "The fact that something so lonely could be part of this world interests me." Wait. What?
Far-fetched ideas are part of his legacy, but to the layman Ed will always be known as "the word guy." That's because no artist has ever succeeded at making the word the work quite like Ed Ruscha. Language is, and always has been, his favorite landscape. For fifty years he's made words dramatic, romantic, powerful and funny. Moms have always told their kids that words can be powerful. Ed's paintings prove it.
His initial experiment featured single words against a flatly lit background. SMASH, ELECTRIC, and NOISE are painted in bold, aggressive letters. "Words have temperatures to me," Ruscha says. In fact, DAMAGE is so hot, he set it on fire. Annie looks like it's poured out of maple syrup. Lisp is liquidy and surrounded by spit droplets. Eventually, Ruscha transitioned from words into phrases and created his own font. "Boy scout utility modern" he calls it. It's a style that rather plainly announces an observation, rather than shouting something else. SAND IN THE VASELINE, ANOTHER HOLLYWOOD DREAM BUBBLE POPPED, even SCREAMING IN SPANISH look like simple statements, nothing more. Read into them what you want.
Ruscha forces you to do just that in a series of word pieces without words where boxes that look like thick, black marker cover up messages like BETTER GET YOUR ASS SOME PROTECTION. In PLENTY BIG HOTEL ROOM, an American flag waves in the background while the boxes cover the sarcasm regarding the treatment of the American Indian.
Mountains, seas and skies later became the backdrop for comments like A CERTAIN FORM OF HELL, BRAVE MEN RUN IN MY FAMILY and NOT A BAD WORLD IS IT? Whether it's a spectacular sunset in red and orange or a silhouetted horizon in black and white, verbal language and visual landscape have never been so perfectly blended.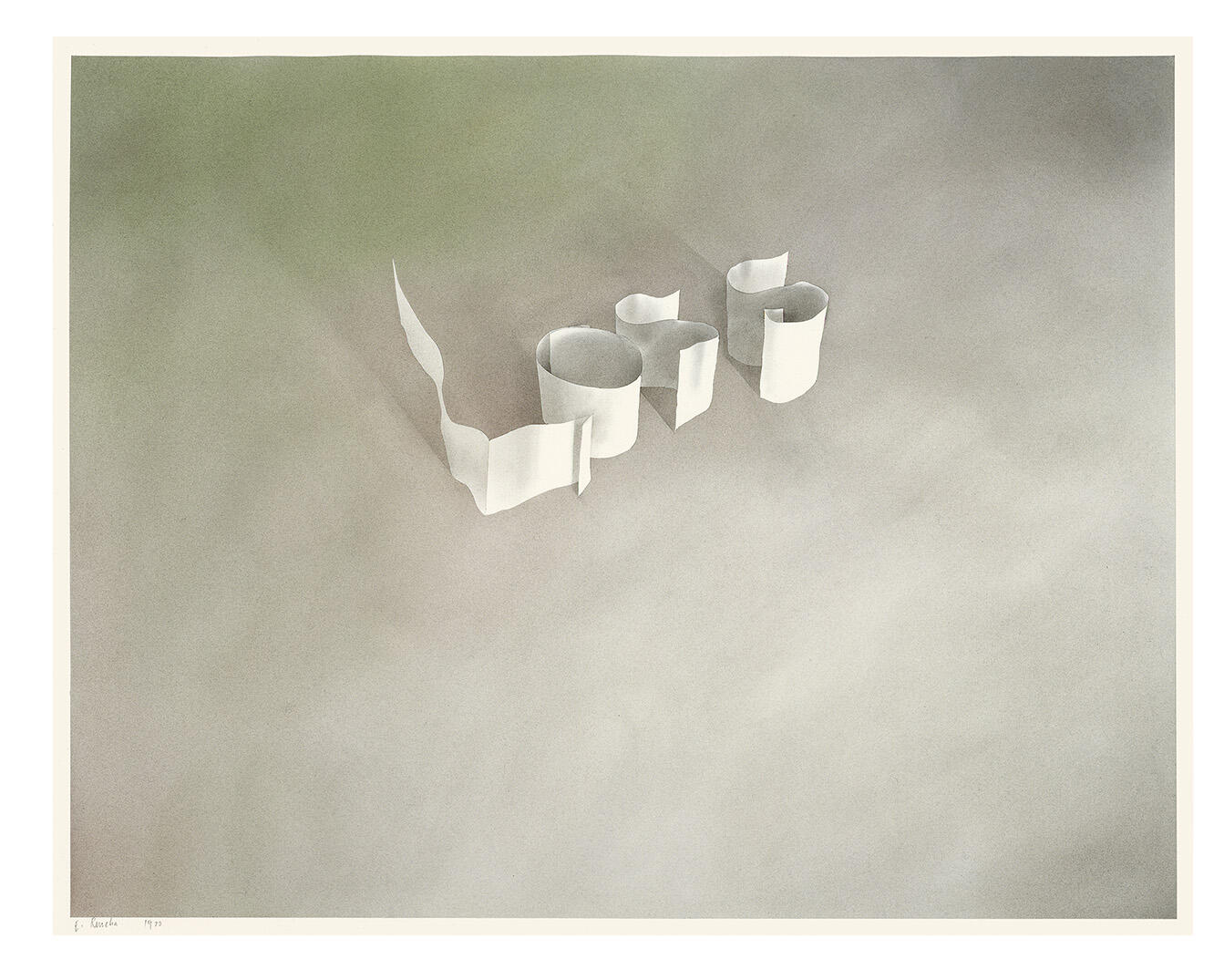 In his quest to make the work as deep as the message, Ed spent several years experimenting with stains. He smeared rose petals and spinach around words like Satin and A BLVD. CALLED SUNSET. He turned everything from coffee, squid ink, crushed baked beans and vials of his own blood into art. Ed also invented the art of gunpowder. He felt graphite was too streaky, so he went searching for something new. He found that soaking pellets in water washes away the salt and leaves a charcoal-like powder behind. The sulfur added a warm color and yet another dimension to his work. As for his subject matter: "There's no guideline or rule as to what would make me want to select a particular word," Ruscha says. His ideas have come from casual conversation, talk radio, even reading the dictionary. "I'm still mystified by it and I'm glad. Every so often something just bangs! I see it and I just feel like I have to hammer this in stone and make a picture out of it."
Ruscha's "pictures" are powerful statements that turn to portraits if you trace the common thread woven through the decades of his work. From the mythical glitz and glamour of Hollywood to the barren landscape along Route 66 and his original study of the English language, Ruscha has always been painting a giant portrait of America. Ruscha has documented consumption, change and the consciousness of our culture. He's shown us the country's soul and its armpit without passing judgment. His artistic language is commentary on the basic values and commercial outgrowth that this society produces. "I do feel particularly American in this respect," Ruscha says. "Some artists can feel universal and that their work might fit well in Paris or Rome or wherever, but I feel like all the history of America has sort of been funneled into my view of the entire world."
With the explosion of contemporary art, Ed is proving to be a living legend. In November 2006, Christie's held a Post War auction and five of Ruscha's pieces went for a total of $1,575,600. All of them sold well above the high end estimate. One of them, Miniature America, sold for an astounding $576,000. Ed's influence is everywhere. Many of today's top young artists admit drawing inspiration from Ruscha's work. From MoMA to the Smithsonian, the Getty, and around the world, the great museums have a Ruscha in their collections. San Francisco Museum of Modern Art Director Neal Benezra organized one of Ruscha's retrospectives in 2000. He attributes Ed's success to the incredible growth of his work. "He hasn't been stagnant at any time," Benezra says. "The work has continued to evolve and surprise us. What he has done is put together a real career of work. If one of the measures of greatness is that you sustain your work and your creativity and your imagination and your achievement over a lifetime, well he really rates very, very high. We live in a culture of 15 minutes of fame, Ed has anything but that. He has a tremendously inventive body of work over several decades."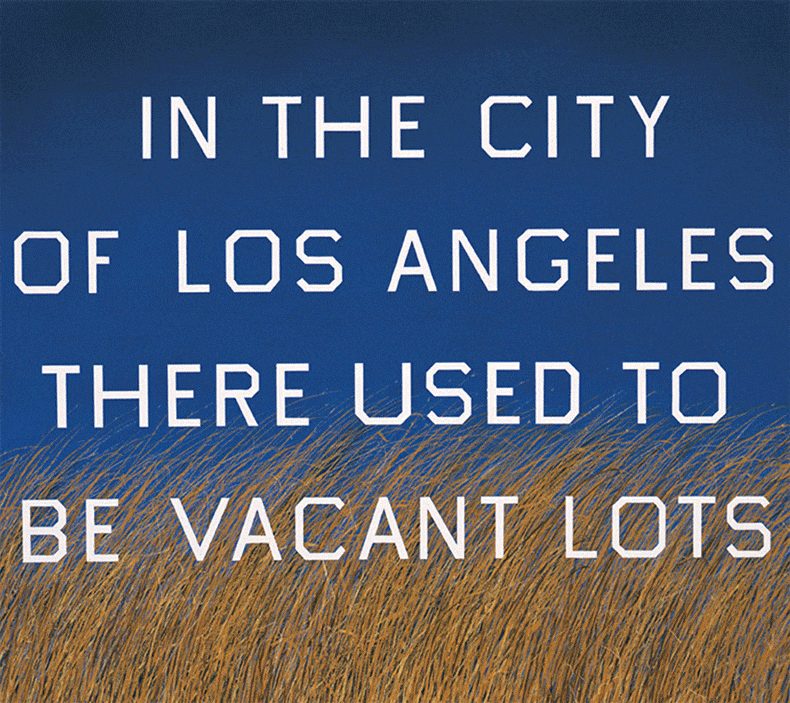 For nearly 50 years, Ed Ruscha has been reinventing the way an artist can make a mark. He's never done things by the book, choosing instead to make his own. Los Angeles Museum of Contemporary Art Curator Paul Schimmel puts it perfectly: "There are artists who are great specialists. The Golden Age of Holland in the 17th Century had still life and architecture specialists. Then there were artists who took it all on, like a Rembrandt. Ed's one of the guys who will be measured by taking it all on. It's not a little career, it's huge." Art books referring to his association to movements, materials and isms will be confusing students for centuries to come. But what really matters about Ed Ruscha is that he's always stayed true to his own vision and has never been afraid to explore just how deep it goes.